Translate this page into:Spanish
Italian
French
German
Portuguese
Norwegian
FreeTranslation.com

Groove Master
TARIK SHAH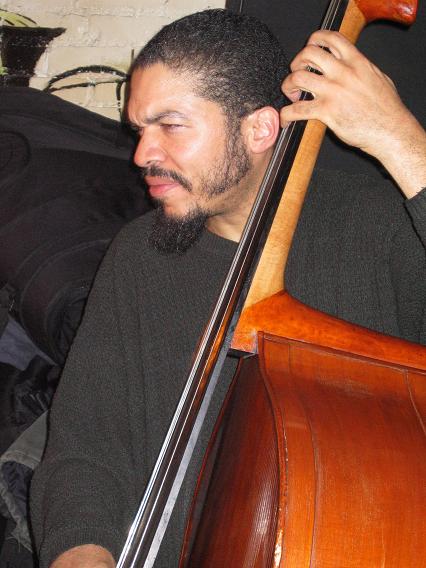 CONTACT INFO BELOW BIO
Tarik Shah, affectionately known by many Jazz greats, as the Groove Master is an eminent leader among the top 1% of jazz bassist on the scene today. His lightening rod intensity, his acute awareness of the soul of a tune has made him the bass player of choice for living jazz legends such as: Ahmad Jamal, Dakota Staton, Vanessa Rubin, Ellis Marsalis, Barry Harris, Pharaoh Saunders and the late great inimitable songstressBetty Bebop Carter. Having honed his skills with big bands such as the Duke Ellington Orchestra and small groups such as Red Rodney, Sir Roland Hanna, Abbey Lincoln, Harold Vick, Dr. Lonnie Smith and others in both the jazz and Latin world, Tarik has explored and evolved an expertise in the existing esoteric of bass playing. In fact many would say Tarik Shah is as much a blessing to the bass as Betty Carter was to a song. Tarik has the spectacular ability to discover new dimensions in a tone and yet remain faithful to the secret timeless magic of the melody. His recording with artist as diverse as Pharaoh Saunders, and Vanessa Rubin, wondrously displays and demonstrates his flexible groove ability. Tarik Shah is a jazz optimist. He is a true believer in the triumph and beauty in a world full of those who doubt that the world can be ever beautiful. In the 21st century jazz is truly enjoying a new renaissance. The trail blazing solo work of Tarik Shah is an integral part of a brave, wonderful, and warm experience that is shaping jazz as a New World Music. Tarik remains a man who pioneers new horizons in the music and never forgets the groove.

********************************************************************************************************* NEWS

<<> <> >< <> >< <>>

On Saturday, January 19, 2008 at 4:03 PM, Tarik's Mom wrote:
I heard from Tarik today. He was so excited because he was allowed to play the bass -- not an upright, but an electric. When he was first given the bass to play, he advised them that he hadn't touched a bass in three years. When he started playing, they were surprised, and he was told that he played better than anyone else in the facility.

<<> >< >< >< ><> <<> >

On Friday, January 18, 2008 at 9:01 AM, Tarik's Mom wrote:

Tarik has been moved to a permanent place. He is in Petersburg, Va, a medium-security facility. This is the facility he wanted to go to. It has lots of programs, and I believe he will be able to continue his education and maybe also study music. I do believe this facility has a music program. He called me on Wednesday, and he sounded pretty good. I have called the facility three times and have gotten good feelings. Each person I spoke to seemed very intelligent and human. I will be going to see him the first weekend in February, and I can visit with him for two days. His address:

Tarik Shah, Reg. #53145-054, E-S.,
FCI Petersburg Medium,
Federal Correctional Institution,
P.O. Box 90043
Petersburg, Va 23804-90043.

His birthday is January 24th; he'll be 45 years old.
I pray to God that I will live long enough to see Tarik free.
<< >< >< >< >< >< ><
Instructions for the general public for visiting Tarik and for sending mail, gifts, and money are here:(PLEASE COPY THE CONTACT INFO ABOVE TO PROCEED)
CLICK THIS LINKand
AND THIS LINK

. .